Conference Banquet
Date: Oct. 17th 19:00-21:00
The banquet venue, Ganko Ginza 1-chome, was built in the style
oftraditional Japanese architecture.
You can feel the traditional culture in its entrance with a motif of
calligraphy, and also find the brilliant architectural technique in
its interior.
In such an atmosphere, Japanese special cuisine will be served to you.
Please enjoy the traditional Japanese culture as a sophisticated total
service, in the center of Tokyo metropolitan area.
This banquet is arranged by Dr. Takeshi Shimmura, an executive
managing director of Ganko Food Service Co. Ltd.
(He is also a keynote speaker on 18th, Friday)
Place:
Ganko
Ginza 1-chome
1-7-10, Ginza Fuji Bldg., Ginza, Chuo-ku, Tokyo 104-0061
Tel: +81-3-3567-6789
Map: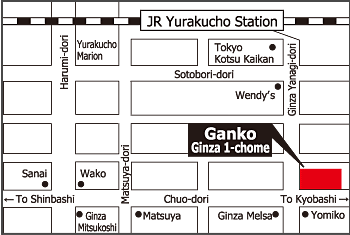 How to visit:
You can ride on a bus to the restaurant in front of the conference venue after the sessions.
The detailed information will be announced during the conference.